Why is this monument to Maryland troops who served in the Confederate military still standing in Rockville? It's right between the Circuit Court and the old 1891 red brick courthouse, which is still being used. Not very subtle.
I think it's long past time for this monument to go - last time I looked, Montgomery County is minority-majority now.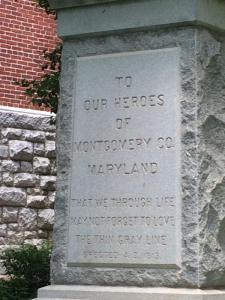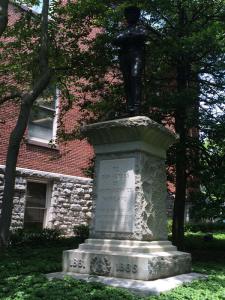 You can't tell with certainty from these photos that it's a Confederate memorial, but the picture below makes it clear ("CSA" on the belt buckle), as does the description of the monument accompanying the photo:
The monument, dedicated on June 3, 1913, is significant for its commemoration of the people of Montgomery County who served in the Confederacy. It was sponsored by the E. V. White and Ridgely Brown chapters of the United Daughters of the Confederacy and the Ridgely Brown Camp of the United Confederate Veterans. The Falvey Granite Company of Washington, DC, built the statue at a cost of $3,600. It is a customized example of the common soldier memorial, a type first used after the Civil War and popular through the First World War.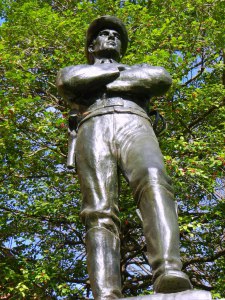 Thanks to @Gabriel Sikowitz for posting the first two photos and bringing this to my attention on Twitter.